PROUD PARADISE -
Ti Rocher


WHAT IS PROUD PARADISE?
Proud Paradise is a new development
located in the community of Ti Rocher/Micoud St. Lucia.
With lush, green vegetation expressing itself beyond the Troumasse River, Mahaut Country side
,
the Northern forest reserve and mountain tops
with a good view of the Alantic Ocean.
A perfect place to live!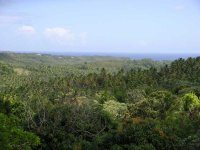 PROUD PARADISE OFFERS
Proud Paradise offers a complete relaxing environment.
We plan to create a Garden of Eden with flowers from St. Lucia for your enjoyment.
Good water, telephone, and electrical facilities.
Road Access – (also to Troumasse River).
Rich and fertile land.
Lots are from 15.000 sq.ft. to 46000 sq.ft.
For the first 5 lots just 7,00EC per sq.ft (incl. infrastructure)!
If you love nature and wants to keep St. Lucia ever green, we implore
you to visit us and see for yourself, this beautiful haven away from
busy city life.
PLACES OF IMPORTANCE TO YOU
Located 20 minutes from the St. Judes Hospital.
Located 2 minutes from the Ti Roche Health Center.
Located 15 minutes from Hewanorra International Airport and major seaport.
Excellant road conditions from the Vieux-Fort/Castries highway to Proud Paradise Development site in Ti Rocher.